Fillings: the Basics
Explore the entire filling process from identifying the need to late if a repair for a cracked or lost filling should occur.
Smile Saver
How much do you really know about gum disease? Take our quiz and see.
Lose the stress.
Learn what to expect during your dental procedure.
Are you scheduled for a filling, crown or root canal? Knowing more about your dental procedure can help you to understand its importance and alleviate your anxiety.
Articles: Crowns and Bridges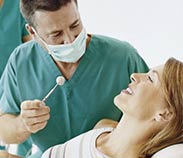 Both crowns and most bridges are fixed prosthetic devices. Unlike removable devices such as dentures.
Articles: Root Canals
Root canal treatment is the removal of the tooth's pulp, a small, thread-like tissue in the center of the tooth
Articles: Dental Implants
Dental implants are metal posts or frames that are surgically positioned into the jawbone beneath your gums. Once in place, they allow your dentist to mount replacement teeth onto them.