Could diabetes put your smile at risk?
Extra care is needed to avoid oral care complications from diabetes.
Smile Saver
How much do you really know about gum disease? Take our quiz and see.
Colgate Total® Fights Gum Disease
The 12-hour germ-fighting protection in Colgate Total® helps prevent gum disease, a common condition for those with diabetes.
Help protect
your smile from diabetes.
High blood glucose levels help bacteria breed in your mouth, which, without proper oral care, can lead to gum disease. Add to this the body's lowered resistance to infection and maintaining good oral care becomes more important than ever. Fortunately there are ways to manage the oral complications of diabetes.
Articles: The Basics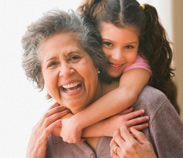 For the nearly 21 million Americans that have diabetes, many may be surprised to learn about an unexpected complication associated with this condition.
Diabetes is a disease in which the body does not produce or properly use insulin. Insulin is a hormone that is needed to convert sugar, starches and other food into energy needed for daily life. Of the 20.8 million children and adults in the United States who have diabetes, nearly one-third are unaware that they have the disease.