What is good oral hygiene?
Learn what it means to have good oral hygiene and how to practice it every day for a healthier smile.
Guide to Brushing
Test your brushing skills with our FUN 3-D brusher.
Colgate® 360°® ActiFlex Toothbrush Removes Bacteria
Colgate® 360°® ActiFlex features a flexible head and cheek and tongue cleaner to remove more bacteria for a healthier whole-mouth clean.
It's always a good time
to brush up on your oral health basics.
Knowing the basics of good oral hygiene can make a big difference in the health of your smile down the road. Learn the most effective ways to brush and floss now and avoid problems like cavities, plaque and tartar later.
Articles: The Basics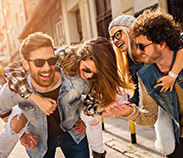 Maintaining good oral hygiene is one of the most important things you can do for your teeth and gums. Healthy teeth not only enable you to look and feel good, they make it possible to eat and speak properly.
Proper brushing takes at least two minutes — that's right, 120 seconds! Most adults do not come close to brushing that long
Articles: Nutrition
Proper nutrition means eating a balanced diet so your body can get the nutrients needed for good health. Every day, your body renews itself,
Articles: Plaque and Tartar
Plaque is a sticky, colorless film of bacteria and sugars that constantly forms on our teeth.
Tartar, sometimes called calculus, is plaque that has hardened on your teeth.