Is it time for orthodontics?
Orthodontic work now could save time and money later.
Orthodontic Basics: Tips, Care and More
Find helpful information on common orthodontic appliances.
Colgate Total® Protects Teeth with Braces
Colgate Total® contains an antibacterial ingredient recommended for those with braces.
Brace yourself.
Today's orthodontics aren't so bad!
To feel better about your smile, orthodontics may be the way to go. The good news is that with today's technology, appliances are more comfortable and less visible than ever.
Articles: The Basics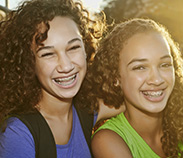 The American Association of Orthodontists reports that in the United States 4.5 million people are wearing braces or other dental appliances to straighten teeth and provide a healthy, beautiful smile.
Orthodontics is the branch of dentistry that corrects teeth and jaws that are positioned improperly. Crooked teeth and teeth that do not fit together correctly are harder to keep clean.
Articles: Treatment and Prevention
What is a Diastema and How do I Treat It? A "diastema" is an area of extra space between two or more teeth. The two front teeth of the upper jaw area is where diastema is most frequently seen.
Children may need space maintainers if they lose a tooth early or have a baby (primary) tooth extracted due to dental decay. If either is the case, it is important to know the benefits of using a space maintainer and how it can help support your child's dental health.
Articles: In-Depth
As braces have become less bulky and visible in recent years, more and more adults are wearing them, for a variety of reasons.