Healthy Mouth Healthy Body?
Diabetes

What is gum disease?
Gum disease is an infection of the gum tissue surrounding the teeth.
Gingivitis - an inflammation of the soft tissue of the gums - is the initial stage of gum disease.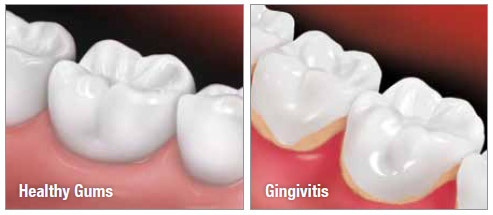 What causes gum disease?
Like all infections, gum disease is caused by bacteria. In the mouth, a film of plaque, consisting of bacteria and saliva constantly forms and sticks to teeth and gums.
This bacteria accumulation can cause gingivitis.
What are the signs of gum disease?

Red, shiny or swollen gums
Persistent bad breath
Bleeding gums
Why are people with diabetes prone to gum disease?
People with diabetes are almost twice as likely to develop gum disease compared to people who don´t have diabetes.
WHY? Scientific research reveals that people with diabetes are more susceptible to bacterial infection and have a decreased ability to fight bacteria that invade the gums.
As such, it is important for people with diabetes to take care of their oral health.
How can Colgate Total* help?
A good oral health program includes brushing your teeth twice a day, flossing, and seeing your dentist every six months.
Colgate Total* toothpaste is a good choice as it goes beyond fighting cavities. Colgate Total* is clinically proven to provide antibacterial protection against gingivitis, an early form of gum disease, for a full 12 hours.
it is important to improve your oral health as part of your overall diabetes management program. Use Colgate Total* twice daily, floss and have regular dental visit.
How can I help prevent gum disease?

Brush teeth twice daily with Colgate Total*, a Canadian Dental Association approved toothpaste
Floss daily to remove plaque between teeth
Have dental check-ups every six months or as often as your dental professional recommends
Tell your dentist and higienist that you have diabetes and about all medications you may be taking
Contact your dental professional if you have any of these signs:

Gums bleed when you brush; ie. You see pink in the sink
Gums are red, swollen or tender
Gums have pulled away from teeth
A change in the way your teeth fit together when you bite
Persistent bad breath or bad taste in your mouth
Brush up on your Oral Health!